Frank Lloyd Wright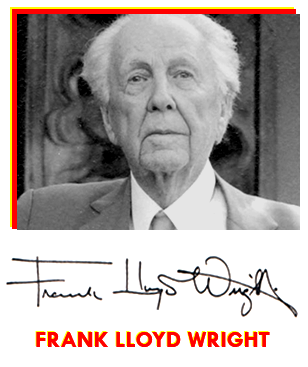 Frank Lloyd Wright plays a small, but vital role in both HOUSE du RIVAGE films: Ten Things To Love About Architect Alfred Browning Parker and Our Pace Setters.
As America's premiere architect of the 20th century, Wright's impact was, and continues to be, profound. To Alfred Browning Parker Frank Lloyd Wright was mentor and friend. Using rarely seen archival film, professional documents and touching personal correspondence, section three "Organic Architect" of 10 Things To Love examines the unique relationship between Parker and Wright.
In Our Pace Setters the theme is architecture inspiring and enduring from generation to generation. In this second HOUSE du RIVAGE film, Wright plays a smaller, but still important part. His buildings and his philosophy of organic architecture form the base of the family tree of American modernist architects, designers and clients.
Frank Lloyd Wright (1887-1959) is known worldwide as a visionary and prolific architect, and considered among the greatest the profession has produced. His 1939 Kaufmann House, known as "Fallingwater", has repeatedly been named the most beautiful house in the world by the America Institute of Architects. In "Fallingwater" what Frank Lloyd Wright called organic architecture is expressed beautifully by the integration of the landscape, the waterfall and rocks into the design of the house.
More than fifty years after his death, Frank Lloyd Wright's ideas and aesthetics define modern architecture. Site specific planning, passive solar design, the open floor plan, the car port, and the integration of indoor and outdoor space, provide contemporary solutions for elegant and sustainable construction and design.
For more information on Frank Lloyd Wright & his work visit: franklloydwright.org
© The Frank Lloyd Wright Foundation Archives
(The Museum of Modern Art | Avery Architectural & Fine Arts Library, Columbia University, New York)