John Lautner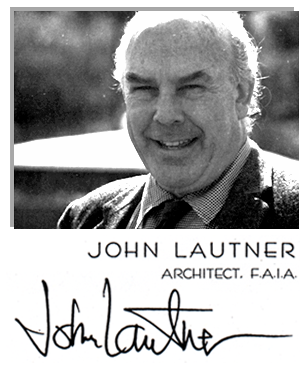 John Lautner plays a small, but significant role in the second House du Rivage film: Our Pace Setters. Along with Alfred Browning Parker, John Lautner represents the second generation of American modernist architects.
John Lautner (1911-1994) grew up in Michigan. He joined Frank Lloyd Wright at Taliesin, Wisconsin as an apprentice in 1933. In 1940 he opened his own architecture office in Los Angeles, practicing and expanding on Wright's philosophy of organic architecture. Lautner built a body of work in Los Angeles that continues to grow in influence and renown. His dazzling and photogenic designs are favorites with Hollywood directors and set designers. Lautner's spaces set the stage for action in: "Diamonds Are Forever", "Lethal Weapon 2", "The Big Lebowski", "A Single Man", and other hit films.
In 1977 Lautner hired young architect Vaughan Trammell; the two worked together for 11 years. The Frank Lloyd Wright, John Lautner & Vaughan Trammell connection, showing three generations of American modernist designers, is essential to the film Our Pace Setters, with its theme of architecture inspiring and enduring from generation to generation.
For more information on John Lautner & his work visit: johnlautner.org
© J Paul Getty Trust. Used with permission. Julius Shulman
Photography Archive, Research Library at the Getty Research Institute.