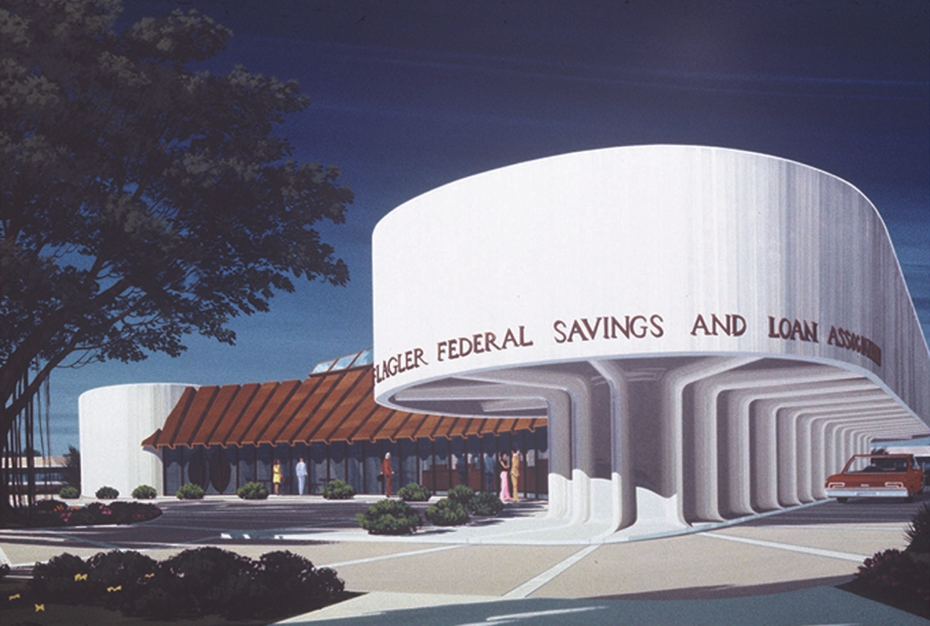 The office of Alfred Browning Parker Architect designed & built scores of banks for multiple clients throughout South Florida & The Keys. From the mid-1950s through the 1970s numerous branches were built for the Flagler Federal Savings & Loan company, including the bank's main office headquartered in downtown Miami. The North Miami Beach branch illustrated here was designed in 1969. The unique curvilinear structure is an impressive example of both organic architecture and integrated design: making all parts fit the whole.
With notable features such as a drive-through teller and the latest in modern furnishings by Hermann Miller, the architect inspired the client and bank customers alike with the optimism and confidence identified with the best of mid-century building.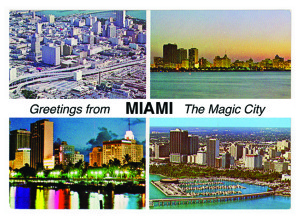 The Magic City
South Florida's long been an attraction for the sun and sea, for wildlife and night-life, and for the arts and culture. Known as "The Magic City" in the 1930s & 40s, Miami's boom continued through the 60s.  Alfred Browning Parker made his magic from wood and stone and glass and metal. His buildings transformed Miami & helped make "The Magic City" an international architectural destination. The postcard shown here is from circa 1972. Parker's Miamarina is on the bottom right.
Parts 4, 5 & 6 of 10 Things To Love form a group. They show Parker's reputation growing as he takes on larger, higher-profile projects and establishes himself as "Architect of the Magic City".
© University of Florida, Alfred Browning Parker Architectural Archive, © Gulfstream Card Co., Inc.