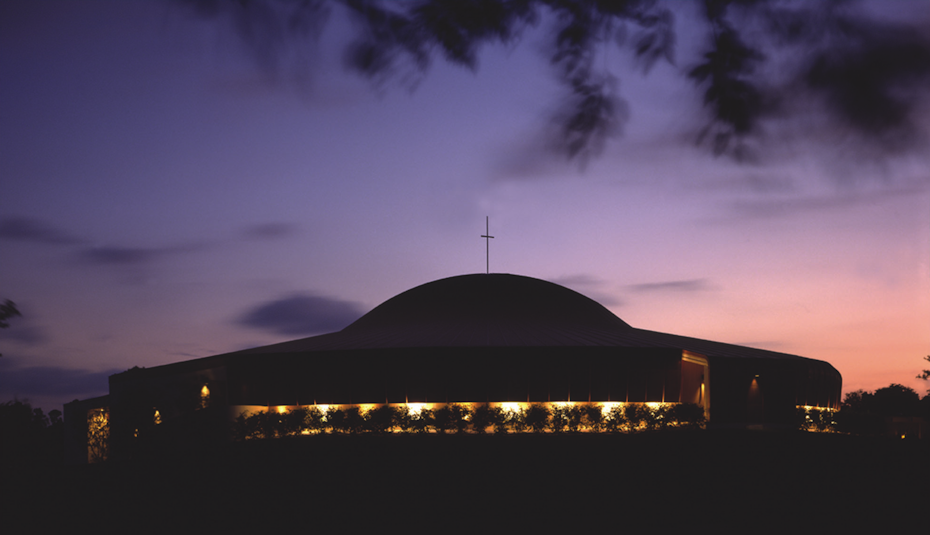 Father David H. Russell, Pastor of Saint Louis Catholic Church in Pinecrest, Florida chose Alfred Browning Parker to design a new church for his parish. In dedicating the church in September 1980, Father Russell wrote:
The building is, I believe, beautiful. The large ribs remind one of the ribs in a boat…Peter's bark. Some with a glint in their eye have said the exterior resembles a space ship. Perhaps there is something very significant and valid in that. We are on a journey to the Lord…the space is within.
Jesus had an eye for beauty, shape, balance, and form. He was a carpenter, a maker of things. I like to think this structure pleases Him. God is beautiful, ugly buildings lie about God. I ask you to pray over this building. May the Holy Spirit fill it. When people are in it may he touch, heal, and transform them. The success of our building is in the hands of God. It needs his power. Bless it lord we beg you.
Thank you for your help.
Father Russell too had a eye for beauty. He saw it in the work of Alfred Browning Parker and he expressed it himself. After decades of service to the Catholic Church, he retired from the clergy to become a painter.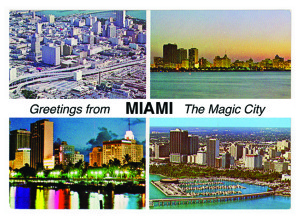 The Magic City
South Florida's long been an attraction for the sun and sea, for wildlife and night-life, and for the arts and culture. Known as "The Magic City" in the 1930s & 40s, Miami's boom continued through the 60s. Alfred Browning Parker made his magic from wood and stone and glass and metal. His buildings transformed Miami & helped make "The Magic City" an international architectural destination. The postcard shown here is from circa 1972. Parker's Miamarina is on the bottom right.
Parts 4, 5 & 6 of 10 Things To Love form a group. They show Parker's reputation growing as he takes on larger, higher-profile projects and establishes himself as "Architect of the Magic City".
© Bo Parker Photo, © Gulfstream Card Co., Inc.